SimpleMind is the world leader in cross-platform Mind Mapping tools
Single purchase per platform, no subscriptions!


Analyze & learn
---
SimpleMind helps you organize your thoughts, remember information and generate new ideas. We've created a beautiful, intuitive app that is easy to use.
Place topics anywhere you want in the free-form layout.
Or use one of the various auto layouts - great for brainstorming.
Block out distractions with autofocus.
Learn more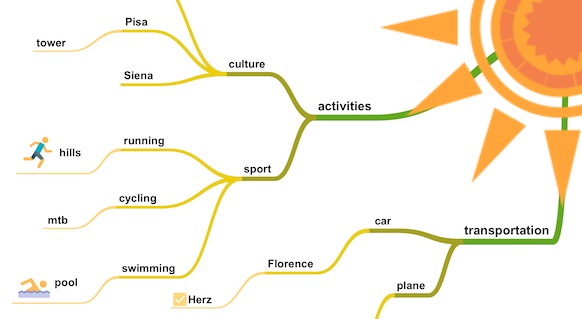 Create beautiful Mind Maps
---
Add color, images and photos to your Mind Map with SimpleMind Pro!
Customize topics and lines, add notes, links, checkboxes and much more.
Store all your information in one beautiful Mind Map.
Share your ideas, for example as a .pdf.
Learn more
What do our customers say?
I'm growing increasingly dependent upon SimpleMind! I'm using it regularly for my writing, planning, presentations, and teaching.

Hillard Jason, MD, EdD - Clinical Professor, University of Colorado Denver
Outstanding software I use SimpleMind since 4 years now. Both on my android devices and PC. Before stumbling upon SimpleMind I've tested dozens of other mindmaps apps and without doubt this is best one.

Bartek Moniewski
Yes, the free version is great… but the power of this tool is found in the paid version. It's worth every penny. I use SimpleMind to study with. Breaking down chapters of text by using the hyperlink capacity in the paid version allows me to dig deeper into my understanding of the relationship of ideas.

Craig Yager
Latest news
---
Mapping Your Thoughts with ChatGPT
Tuesday April 11, 2023
Streamlining the Transfer of Mind Maps Between ChatGPT and SimpleMind. In a remarkable feat, OpenAI released ChatGPT just four months ago, and within a mere two months, it garnered a user base of over 100 million people. This staggering growth…