Version 1.29 – Released 3 May 2021
Version 1.29.2 – Released 21 June 2021 as BETA

Google Drive integration lists files and folders "Shared with Me"
Auto Derive Stroke Color added to Style Inspector
Workaround for OneDrive problems
Bug fix for External Directory in Android 11

New brainstorm bar: designed to quickly get ideas on the canvas. It frees you from having to think about where each idea belongs within your mind map, and enables you to focus on idea generation. Once done, order your ideas using drag and drop. Read more…
External Directory access redesigned for continued support on Android 11+
Version 1.28
Version 1.28.3 – Released 3 March 2021

Thai translation
Import Mind Map supports more scenarios
Mouse input related bug fixed

Version 1.28.2 – Released 25 Januari 2021

Arabic translation
Drag drop images in splitview mode
Restored External Directory for Android 9 and 10
Open mind maps directly from other apps like Mail and WhatsApp
"Link to Document on device" no longer available on Android 8.1 and higher

Version 1.28.0 – Released 7 Dec 2020
Android 10 supported
Sort Local Mind Maps by name or date.
New command Checkboxes | Reset state. Sets Checkboxes to unchecked, and progress bars to 0.
Using latest Dropbox and OneDrive APIs
Minor bug fixes.
Version 1.27 – Released 24 August 2020
New Radial layout.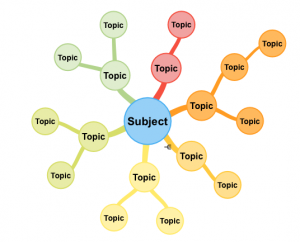 New Stylesheet "Colored Circles", looks great with the new radial layout.
New Linear layout, great for making simple timelines.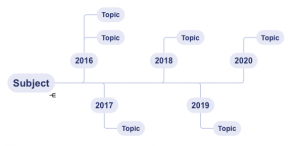 New Stylesheet "Blue Steel", with a cool flat look.
New Stylesheet "Colored Circles", looks great with the new radial layout.
Use emojis icons in topics. "Icons" has a new tab "Emojis" where you can add your choice of emojis. Read more…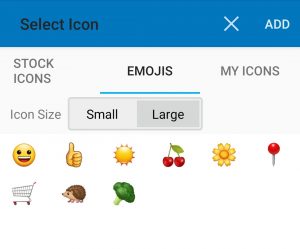 The "external link" icon is tinted.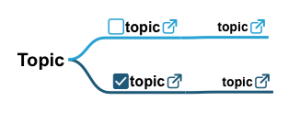 New Topic border styles: circle, left arrow, right arrow and parallelogram.


The minimum width and height for topics can be set via element style or the new topic resize tool. This allows manual sizing of topics.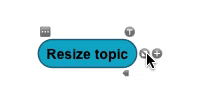 Enable the "topic resize tool" via Preferences | General | Topic Tools.
New keyboard shortcut "Remove checkbox" Shift+Ctrl+Space
Minor bug fixes and minor improvements
Version 1.26 – Released 21 April 2020
Open a blank mind map or start from a template.

11 predefined templates available.

Add your own templates. Read more…

Calendar

Export topics with a date to a calendar app.
Export topics with a date as .ics events. This can be imported in calendar apps.
Add a new event in the calendar app via the topic toolbar – date. That date will be shown in the topic.


Path style "rounded" added

Transparent .png image export.
New layout directions for the List Layout: "Top – Right to Left" and "Top – Left to Right".
Show dates, or filter topics with dates, in export outline and print outline.
Paste on collapsed topics.
Keyboard shortcut added: "Control+Space" and "Control+K" toggles checked state of a checkbox.
Close button added to Style inspector toolbar
Nextcloud removed. Unfortunately, Nextcloud is using older Android components and we are no longer able to release with Nextcloud included. Nextcloud is working on upgrading the android library, once they'll have fixed it, we'll be able to add Nextcloud again.
Small bug fixes and improved performance.
Version 1.24 – Released 2 Sept 2019
 Slideshow support. Define slides by selecting topics and play slideshow inside SimpleMind or export as zipped set of .png images. Read more…

Auto focus extended with Lock Auto Focus on Selected Branch. The branch remains focused until Auto focus style is changed (disabled etc).
Topic dialog uses + and * icons for "add child" and "add sibling" – now also available on smaller devices.