Version 1.29 – Released 3 May 2021
Version 1.29.1 – Released 3 June 2021

Auto Derive Stroke Color added to Style Inspector
Minor bugs fixed

New brainstorm bar: designed to quickly get ideas on the canvas. It frees you from having to think about where each idea belongs within your mind map, and enables you to focus on idea generation. Once done, order your ideas using drag and drop. Read more…
InApp unlocked Pro functionality now supports Family Sharing
Version 1.28
Version 1.28.3 – Released 3 March 2021

Thai translation
UI modernized
Long press to see context menus, for example in the mind map explorer, stylesheets etc.
Three-finger gestures supported

Version 1.28.2 – Released 25 January 2021
Version 1.28.1 – Released 11 December 2020

fixes iOS14 related problems with editing notes.

Version 1.28.0 – Released 7 Dec 2020
Built-in cloud support for OneDrive. Connect SimpleMind to OneDrive and you'll see all your existing folders and mind maps. With the built-in support you can now add links to mind maps, documents and images.
Sort Local Mind Maps by name or date.
New command Checkboxes | Reset state. Sets checkboxes to unchecked, and progress bars to 0.
Using latest Dropbox API
Minor bug fixes.
This update requires iOS 11.0 or later.
Version 1.27 – Released 24 August 2020
New Radial layout.

New Stylesheet "Colored Circles", looks great with the new radial layout.
New Linear layout, great for making simple timelines.

New Stylesheet "Blue Steel", with a cool flat look.
Use emojis icons in topics. "Icons" has a new tab "Emojis" where you can add your choice of emojis. Read more…

The "external link" icon is tinted.

New Topic border styles: circle, left arrow, right arrow and parallelogram.

The minimum width and height for topics can be set via element style or the new topic resize tool. This allows manual sizing of topics.

Enable the "topic resize tool" via Preferences | General | Topic Tools.
New keyboard shortcut "Remove checkbox" Shift+Ctrl+Space
When playing Slideshow, tap left or right in the mind map to go the the previous or next slide.
iPhoneLink removed
Bug fixes and other minor improvements
Version 1.26 – Released 21 April 2020
Open a blank mind map or start from a template.

11 predefined templates available.

Add your own templates. Read more…

Calendar

Export topics with checkboxes to Reminders.
Export topics with a date as events to Calendar.
Export topics with a date as .ics events. This can be imported in calendar apps.

Use the topic toolbar and select "add date" to add a New Event in Calendar. That date will be shown in the topic.

Path style "rounded" added.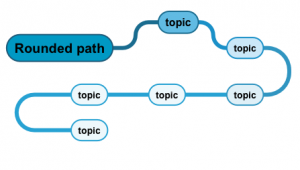 Transparent .png image export.
New layout directions for the List Layout: "Top – Right to Left" and "Top – Left to Right".
iPad: Double tap a topic in the outline view to edit the topic in the mind map editor.
iPhone: Double tap a topic in the outline view to close outline and select topic in the mind map editor.
Show dates, or filter topics with dates, in export outline and print outline.
Paste on collapsed topics.
Keyboard shortcut added: Ctrl+Space toggles checked state of checkbox.
Deleting a mind map in Google Drive moves the mind map to trash, rather than deleting the mind map permanently.
Mind Map Style restored in the tools dropdown (overflow) menu.
Small bug fixes and improved performance.
Version 1.25 – Released 2 Dec 2019
Version 1.25.1 released 5 Dec 2019 – bug fixes.
We've added a style panel so you can easily style topics, lines, and more. Simply tap the brush icon or select "style" from the overflow menu. The style panel is stays visible next to your mind map – every change you'll make is immediately visible. Read more…

Tap once in blank space to display the mind map style when the style panel is open. Read more…

The color picker has been improved.
iOS 13 Dark mode is supported.
Tools and Add dropdowns have been reorganized.
Bug fixed: Classic number icons were displayed too large.
Version 1.24 – Released 2 Sept 2019
 Slideshow support. Define slides by selecting topics and play slideshow inside SimpleMind or export as zipped set of .png images. Read more…

Auto focus extended with Lock Auto Focus on Selected Branch. The branch remains focused until Auto focus style is changed (disabled etc).
Version 1.23.0 – Released 15 April 2019
Open Mind Maps from Files app.
Wysiwyg (What you see is what you get ) rich text support in notes, topics and labels.

Drag-drop rich text in mind map editor from other apps
"Natural+Colors on Black" stylesheet added

Auto Focus can include cross linked topics.
Group borders
Topics support dashed line styles (via style toolbar – Line width)

Drag drop insert topics in auto layout mode no longer fully expands dragged topics
Bugs fixed