Version 1.31 – Released 10 January 2022
The built-in style sheets support dark mode, meaning if you switch to dark mode the style sheet will as well.


Change the default style sheet setting using the settings button in style sheets. Optionally use classic styles if you prefer the previous style sheets.

Making your own custom style sheets has been made easier with the new stylesheet editor.

When making your own stylesheets you can set set levels for topics and relations. For example, set the first 2 topic levels to "rounded" and the rest to "none".

Topics have more padding and there is more room in-between icons, checkboxes, topic text and links — making it easier to read and maintain oversight.


The hide tool will be displayed in central themes (if "display hide tool for topics" is checked in Preferences – General Options – Topic Tools)
General improvements and minor bug fixes.
SimpleMind is also available for iPad&iPhone and Android.
Read more…
Version 1.30 – Released 11 October 2021
Version 1.30.2 – Released 15 October 2021

Bugs reported on v1.30.0 fixed

Use the new Full Screen Button to easily switch to full screen editing.

Improved look of topics with borders in the Natural Stylesheets.
The icon inspector shows recently used icons and all icons used in this mind map.

Reorder stocks icons and stylesheets by tapping on "edit", next use drag and drop. (MacOS 10.13+)
Google Drive now includes "Shared with me". This shows files and folders that you do not own, but that have been shared with you. In SimpleMind navigate to the root of Google Drive to see the folder "My Drive" and "Shared with me".

Word wrap improved for far east languages.
Maximum thumbnail size increased to 640 pixels.
Thumbnails can be locked to a fixed position via the lock icon.
Improvements to the look and feel of mind maps.
General improvements and minor bug fixes.
Version 1.29 – Released 3 May 2021
Version 1.29.1 – Released 3 June 2021

Auto Derive Stroke Color added to Style Inspector
Minor bugs fixed

New brainstorm bar: designed to quickly get ideas on the canvas. It frees you from having to think about where each idea belongs within your mind map, and enables you to focus on idea generation. Once done, order your ideas using drag and drop. Read more…
Version 1.28
Version 1.28.3 – Released 3 March 2021

Thai translation
Native support for M1 Macs

Version 1.28.2 – Released 25 Januari 2021
Version 1.28.0 – Released 7 Dec 2020
Built-in cloud support for OneDrive. Connect SimpleMind to OneDrive and you'll see all your existing folders and mind maps. With the built-in support you can now add links to mind maps, documents and images.
Sort Local Mind Maps by name or date.
Cloud explorers: Filter mind maps files only.
Second click on Inspector tab hides the inspector.
Define default label style in custom style sheet window.
Using latest Dropbox API
Minor bug fixes.
This update requires MacOS 10.12 or later.
Version 1.27 – Released 24 August 2020
New Radial layout.

New Stylesheet "Colored Circles", looks great with the new radial layout.
New Linear layout, great for making simple timelines.

New Stylesheet "Blue Steel", with a cool flat look.
Use emojis icons in topics. "Icons" has a new tab "Emojis" where you can add your choice of emojis. Requires Mac OS 10.13 or up. Read more…

The "external link" icon is tinted.

New Topic border styles: circle, left arrow, right arrow and parallelogram.

The minimum width and height for topics can be set via element style or the new topic resize tool. This allows manual sizing of topics.

Enable the "topic resize tool" via Preferences | General | Topic Tools.
New keyboard shortcut "Remove checkbox" Shift+Ctrl+Space.
iPhoneLink removed.
Bug fixes and other minor improvements.
Version 1.26 – Released 21 April 2020
v1.26.1 b1974 released 22 June 2020 fixes bugs reported on v1.26.0

In some cases customized Label font sizes would drift
"New Mind Map" could cause a crash – particularly, but not only, on MacOS 10.10 – 10.12
Inspector buttons had zero width in toolbar on MacOS 10.10 – 10.13

Open a blank mind map or start from a template. (Requires MacOS 10.13 or higher)

11 predefined templates available.

Add your own templates. Read more…

Calendar

Export topics with checkboxes to Reminders.
Export topics with a date as events to Calendar.

Export topics with a date as .ics events. This can be imported in calendar apps.

Path style "rounded" added, read more…

Transparent .png image export.
New layout directions for the List Layout: "Top – Right to Left" and "Top – Left to Right".
Edit in the outline view. Double click to edit topic text and use shortcuts, or the menu, to add topics.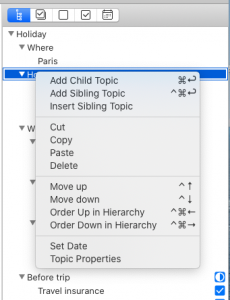 Show dates, or filter topics with dates, in export outline and print outline.
Paste on collapsed topics.
Drag and drop URL into empty space to create a new topic with link.
SimpleApps edition: Drag and drop filename into empty space to create a new (child) topic with link.
Deleting a mind map in Google Drive moves the mind map to trash, rather than deleting the mind map permanently.
Mind Map Style restored in main Style menu.
Small bug fixes and improved performance.
Version 1.25 – Released 2 Dec 2019
Easily style topics, lines and more, with the new Style tab in the inspector. Open with Command+5. Read more…

As a result the old style toolbar is hidden by default. It can be made visible via the main View menu.
Tap once in blank space to display the mind map style when the style inspector is open. Read more…

The Files tab supports Import en Import pdf bookmarks.
Clear history in the Files tab via the right click context menu.
To switch focus, for example from Notes tot Editor, use the Main menu View | Focus Editor or the keyboard shortcut Ctrl+Cmd+0.
Mac OS 10.12 or prior: The Style Sheets are moved to the Stylesheet tab in the inspector. Open with Command+4.

Map searchbar: Restore State – restores collapsed and hidden topics when search bar closes.
Bug fixes and performance improvements.