Version 1.26 – Released 21 April 2020
Open a blank mind map or start from a template. (Requires MacOS 10.13 or higher)

11 predefined templates available.

Add your own templates. Read more…

Calendar

Export topics with checkboxes to Reminders.
Export topics with a date as events to Calendar.

Export topics with a date as .ics events. This can be imported in calendar apps.

Path style "rounded" added, read more…

Transparent .png image export.
New layout directions for the List Layout: "Top – Right to Left" and "Top – Left to Right".
Edit in the outline view. Double click to edit topic text and use shortcuts, or the menu, to add topics.

Show dates, or filter topics with dates, in export outline and print outline.
Paste on collapsed topics.
Drag and drop URL into empty space to create a new topic with link.
SimpleApps edition: Drag and drop filename into empty space to create a new (child) topic with link.
Deleting a mind map in Google Drive moves the mind map to trash, rather than deleting the mind map permanently.
Mind Map Style restored in main Style menu.
Small bug fixes and improved performance.
Version 1.25 – Released 2 Dec 2019
Easily style topics, lines and more, with the new Style tab in the inspector. Open with Command+5. Read more…

As a result the old style toolbar is hidden by default. It can be made visible via the main View menu.
Tap once in blank space to display the mind map style when the style inspector is open. Read more…

The Files tab supports Import en Import pdf bookmarks.
Clear history in the Files tab via the right click context menu.
To switch focus, for example from Notes tot Editor, use the Main menu View | Focus Editor or the keyboard shortcut Ctrl+Cmd+0.
Mac OS 10.12 or prior: The Style Sheets are moved to the Stylesheet tab in the inspector. Open with Command+4.

Map searchbar: Restore State – restores collapsed and hidden topics when search bar closes.
Bug fixes and performance improvements.
Version 1.24 – Released 2 Sept 2019
Version 1.24.2 b1864 released 18 October 2019:

Fixes crash problems related to entering text and spellchecker.
Fixes .pdf files not selectable for import
 Slideshow support. Define slides by selecting topics and play slideshow inside SimpleMind or export as zipped set of .png images. Read more…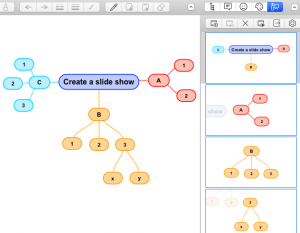 Auto focus extended with Lock Auto Focus on Selected Branch. The branch remains focused until Auto focus style is changed (disabled etc).
Improved toolbar images
Improved inplace topic editor
Version 1.23 – Released 15 April 2019
Version 1.23.2 released 9 May:

Bug fix for Email Mind Map on MacOS 10.14
Bug fix for opening .smmx file from Finder in AppStore edition

Version 1.23.1 released 19 April: bug fixes related to Mac OS 10.10 – 10.12
Save mind map files in any directory – including iCloud Drive.

Open mind maps via "Mind Map | Open".
Open mind map files via Finder.
Mind maps opened via Finder or "Open" are shown in the Files tab.

AppStore edition: Mind Maps in Files tab do not support linking to documents or mind maps.
SimpleApps edition: Mind Maps in Files tab behave like in a cloud and have full linking capabilities.

Wysiwyg (What you see is what you get ) rich text support in notes, topics and labels:
Bold, Italic, Underline, Strike-through, Superscript and Subscript.

User Interface Modernized
New style sheet "Natural+Colors on Black".
Auto Focus can include cross linked topics.
Group borders
Topics support dashed line styles (via style toolbar – Line width)

Copy Branch as Outline and Copy Branch as Image
New command Checkboxes | Reset state – checkboxes are unchecked, progress bars are set to 0.
Drag-drop reconnect topics in auto layout mode no longer fully expands dragged topics
Full size image is displayed with Preview app
Bug fixed in access to Contacts and Photos Library
Bug fixed: Notes included in full text search
Version 1.22.0 – Released 4 Dec 2018
Improved display in Image Preview.
Adjustable font size in note panel (context menu)
Removed options for shadow support in mind maps
Keyboard shortcuts for subscript Ctrl+= and superscript Shift+Ctrl+=
Bug fixed in Export Outline scope radio buttons
Bug fix for Nextcloud servers that have path at the end of the server url
Version 1.21 – Released 22 Aug 2018
Version 1.21.1: released 14 September 2018. Fix for Google Drive sign in problem.
Open multiple Mind Maps with "View | Open in New Window". Shortcut Cmd+O.

Crosslinks can be used to make a summary or merge paths (A in image below).
Manually toggle the crosslink style via "Toggle cross link style" in the relation toolbar . You can use this to style as a "normal" crosslink or to style as a hierarchical relation and merge paths or make a summary.

Nextcloud support added.
You can now use your own Nextcloud based cloud server to synchronize mind maps across devices.
坚果云 – Nutstore cloud support added.
坚果云 Nutstore is a free Chinese cloud service and can now be used to synchronize mind maps across Mac, iPad/iPhone and Windows devices. This is great news for our Chinese customers that could not use Dropbox or Google Drive. Also available for non-Chinese customers.
Maximum image thumbnail size increased to 480 pixels.
Press Alt-key to force scrolling rather than moving elements. This can be used when an image leaves no empty space to scroll.
Allows Drag-Drop on collapsed topics.
Hide Inspector Cmd+0 replaces Toggle Inspector Cmd+Shift+I.
Animated scrolling (outliner, search, spell check etc).
Working around Dropbox time outs when synchronizing.