Our first update for 2019 celebrates the 10th anniversary of SimpleMind for iPhone, released on February 20, 2009. It has been a great journey for us and we are proud that we have kept an uncompromising laser-like focus on building the best mind mapping app possible. We are grateful to all the people who have supported us during this "Decade of the App Store" that Apple started with the introduction of the iPhone.
But let's not spend too much time reminiscing, because this first quarter of 2019 we've been busy adding some cool new features to our apps.

Additional Clouds
On Android we now support OneDrive

natively.
On iPhone, iPad, Mac and PC we now support directly opening files outside the app. For iPhone and iPad this also enables syncing via iCloud Drive. The disadvantage of storing mind maps in external files is that linking topics in the mind map to other documents and mind maps comes with limitations.
Rich text
A very popular request has been for wysiwyg (what you see is what you get) rich text support in notes, topics and labels. The apps on all platforms have been enhanced in this area.
Group borders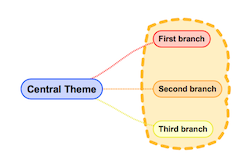 Group borders allow you to draw a frame around a selection of topics. Although similar to branch borders, they differ in that the topics in the group border don't have to be in the same hierarchy.
User interface enhancements
The Mac and PC user interfaces now look more modern. Dark mode is now supported on the Mac. Future updates will also support dark mode on other platforms where appropriate.
There are many more fixes and improvements that we will not discuss here.
Click below for per platform details regarding the new features and changes:
SimpleMind for Android
SimpleMind for iPad/iPhone
SimpleMind for Mac
SimpleMind for Windows